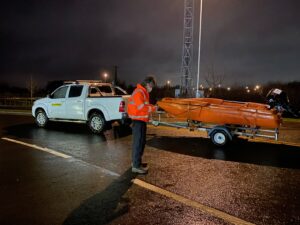 On the evening of 23 December, we receive a call asking us to assist our colleagues at the Maritime Volunteer Service by transporting their boat and rescue equipment to an incident between Kettering and Corby. Four members of our water team were dispatched, and transported the equipment to the location where we met a crew from Northants Fire & Rescue who had requested assistance with an evacuation.
At this incident, two people and a cat were rescued from the first floor of their house, which had been flooded, and transported by one of our volunteers to a place of safety.
Anticipating further deployments, the team made its way to McDonalds at Burton Latimer, where the management kindly allowed us in to re-kit and dry out, and also supplied a round a hot drinks, which was greatly appreciated. Thank you.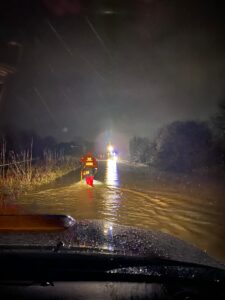 Our next call took the team to Welford, with reports of people stuck in a car in floodwater. Fortunately the car had remained watertight, and the casualties were dry inside, if cold as the engine had been swamped so no heat was available.
The car was dragged from the water, and its two occupants taken a short distance home by one of our volunteers. The team then remained on the scene, with a request to stop anyone else attempting to drive through the water until the road could be closed.
By 0200 on Christmas Eve, the team was stood-down and returned the boat and equipment to its store, and the last member of the team was home safely at 0420.
Later on Christmas Eve, we were again asked to attend to support flood rescue, this time to assist with the evacuation of Billing Aquadrome on the outskirts of Northampton. Ten of our volunteers were dispatched to the incident, including a liaison officer to coordinate with the other organisations on the ground. Over the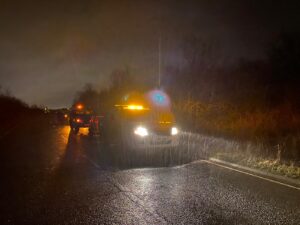 course of the evening we transported numerous people from their homes through the floodwater, along with their pets, limited personal possessions and Christmas gifts to a nearby reception centre.
Through the night our volunteers worked alongside colleagues from MVS, Northamptonshire Search & Rescue, Northants Fire & Rescue, and Billing's own staff to ensure the safety and welfare of those living on the site.
In addition we were also tasked with additional work, including delivering food packs to those in need, and members of the water team were asked to check on reports of a vehicle stranded in floodwater.
Our last responder was home safely at 0530 on Christmas Day.
Covid measures were followed during both deployments to the fullest extent possible.
[Photos by G Brown & J Nicholson]