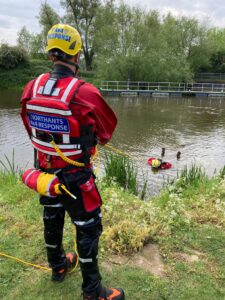 Over the last few years, possibly as a result of climate change, our typical call-outs have changed and we are seeing an increase in heavy rain, storms and flooding, which has seen us working alongside various organisations to move boats and provide other specialist logistic support.
At Christmas 2020 we were called upon to help at a number of incidents, the most major one being the evacuation of residents from a mobile home park. In total around 1000 people needed to be moved, many in our vehicles, through the floodwater to a place of safety.
We also assisted with the evacuation of residents from flooded homes, as well as drivers and their passengers from cars in flood water.
To allow these kinds of operation to take place safely, we have now trained some of our volunteers in water awareness and flood first response skills to DEFRA standards. This means that our volunteers can work safely in and around water, and are properly trained and equipped to assess the situation and identify the hazards, to keep themselves and others safe, warm and dry.
Our volunteers are available to support the emergency and essential services across the county, and also to support our colleagues in other areas should the need arise.
Flood water can conceal all kinds of hazards, and is inherently dangerous. It does not take much water to float a car, and even less to sweep it away if it is flowing. Road surfaces can be washed away, inspection covers can be lifted or the water can hide debris, all of which pose a risk to responders and members of the public. Additionally, it only takes a small amount of water to destroy a car engine if it gets ingested through an air intake.
The only safe way to ford floodwater is under escort, constantly checking the safety of the route and the depth of the water. Many four-wheel drives have wading depths quoted in their handbooks, but the real-world wading depth is much lower: especially if you need to stop in the water or open a door to allow someone in or out.
All too often we see people drive in to deep water, destroying their vehicle and putting themselves, and their rescuers, in danger. If your route is flooded then you should turn back and try another route. Think: Don't sink.
Whilst we enjoy meeting our supporters, we would prefer it not to be because we are rescuing you from a stranded vehicle!