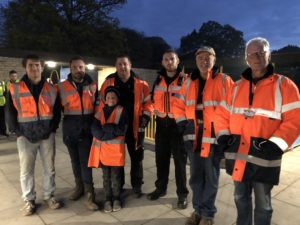 Northants 4×4 Response: A very brief history
The team was formed in December 2008 when it was noticed by members of Northants4x4.com that Northants was not covered by the 4×4 Response UK network. Going into action for the first time in February 2009, the Northants team has become one of the most active groups with in excess of 70 members, with thousands of miles covered on support journeys. The group has attracted positive attention from local press, radio and national television.
What is Northants 4×4 Response?
With an increasing risk of weather extremes, and in circumstances where outlying locations or uneven terrain are involved, the emergency and voluntary services often find themselves without the correct resources. The purpose of the team is to provide an all-terrain logistics support back up service to support the local Emergency Services in the times of need, usually adverse weather conditions but available whenever the need arises. The vehicles can be used in non front-line activities to allow the professional services to concentrate on the matter in hand whilst the team's 4×4 vehicles are providing support as required.
Northants 4×4 Response is a registered charity that voluntarily provides support in all weathers, day or night, 365 days a year.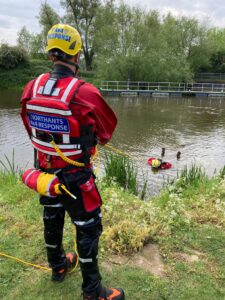 Team Resources
Our members' vehicles are a variety of 4×4 equipped vehicles, with items that allow them to cover the county's terrain in all weathers. They carry maps or navigation equipment, as well as fire extinguishers, first aid kits, blankets etc. to keep themselves and their passengers safe, and most of our volunteers are subject to DBS checks to enable them to work with the more vulnerable members of our community.
There are around 70 members across the county who are available to be called up for support. These are centrally controlled by the duty controller through computer-aided dispatch, network radios and mobile phone.
In addition to providing logistic support, a number of the team's volunteers are trained to DEFRA Level 2 standards for flood rescue, and more are trained to Level 1 which enables them to work safely in flood conditions to support other organisations by transporting, launching and retrieving boats.
Aims of Northants 4×4 Response
The aim of the team is to provide a reliable and professional all terrain logistic support service that the emergency and essential services can depend on. It provides this by mobilising trained drivers in suitably equipped vehicles at the right time to the right places.
What else does the team do?
During the summer months the team supports community events across the region, providing its logistic expertise to help set-up and marshal large events. The team also attends smaller shows to tell people about its work, recruit volunteers and raise funds.
---
For more information on how to join us, find out more here: Join the Team.
To contact us about anything else, get in touch here.