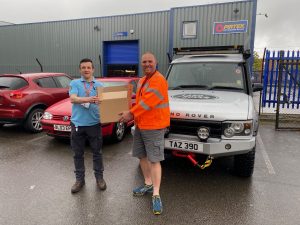 Since the end of March our volunteers have been deployed almost constantly, helping to carry out welfare checks and to deliver food, toiletries and medication to people across the county who need some extra support.
It is by far our longest deployment in our eleven year history, and it is particularly unusual in that weather is not the reason: normally we are deployed to support the country because severe snow or flooding is making travel difficult.
In a typical day we have a dozen or so volunteers out on the road, supported by our Dispatch & Control Team who assign the tasks and ensure the safety and welfare of our Responders on the road.
We have the privilege of working alongside many other voluntary organisations, including Northamptonshire Search & Rescue, Northamptonshire Emergency Services Volunteers, British Red Cross, and the local community volunteers who have stepped-in to help people in their own areas, plus the County and District Councils.
If you, or anyone you know within the county, needs a helping hand during the current situation then support is available. Call 0300 126 1000 and select Option 5. Lines are open Monday to Friday, 8am to 6pm.
And here are some things to remember if you receive a visit from one of our volunteers:
Your safety and welfare is our priority,
We will not cold-call with offers of support: all our visits are arranged through the County Council,
We do not ask for, and will not accept, payment for the food or toiletry packs we deliver,
Our volunteers will be able to identify themselves,
They will also practice safe-distancing at the doorstep to keep you (and them) safe, and will not enter your home,
If you are in any way concerned, please ask our volunteer to wait (they won't mind) and call the number above to confirm.