Since 2015 we have had the honour of supporting the Cancer Research UK Race for Life events in the county (and nearby),which have raised hundreds of thousands of pounds to help fund cancer research.
As a team, we provide our specialist all-terrain logistic expertise to set-out the course early in the morning, transporting signage, fencing and other equipment around the venue, before joining other volunteers in marshalling the course ready for the runners – indeed we often transport them out to their locations in our vehicles.
During the race we're on hand to help address any incidents that might occur, and once everyone is safely finished we retrace our steps and ensure everything is collected in and tidied up.
Events like these only happen through first-class teamwork, and they bring together the team's core skills of map-reading, problem solving and communication.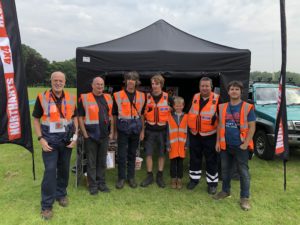 In 2019 we will be supporting three events:
Corby 5k & 10 Races
Northampton Pretty Muddy, Pretty Muddy Kids, 5k & 10k Races
Peterborough 5k & 10k Races
Previously we have also supported our colleagues from other 4×4 Response UK teams in Stamford and Milton Keynes.
Whether you run, jog, walk or stroll your way to 5 or 10k, we'll be cheering you along. Most people will know someone who has been affected by cancer, either themselves, someone in their family or a good friend, and during the event we hear some truly inspiring and heart-warming stories which make the early starts and long days thoroughly worthwhile.
We're very proud to be part of the team, and if you're at one of the events and need a little help then let us know; it's what we're there for.